Founder
Tanya ~ in brief
(Def.) Tanya – she's clever and witty and sharp of mind showing a boldness for standing up to others for what she believes in, she loves a worthy cause for the challenge, astute, hardworking and driven to succeed, giving her all at all times.  Life is never dull with her around as she is always into something new.
"Tanya Oziel is an avalanche for good and peace", quoted The Age Newspaper of Melbourne.
"She's energetic and full of dreams", said Peace Team coach and Australian Football League legend, Robert "Dipper" DiPierdomenico (the David Beckham of Australian Football).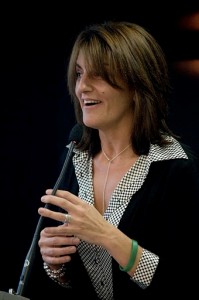 Tanya Oziel is a 42 year-old mother of three of Iraqi Jewish decent from Sydney, Australia.  She is the Executive Director of the Peres Centre for Peace – Australian Chapter, while operating her own Business Development Consultancy –  Tanya Oziel Consulting.
Tanya came into this world knowing that dreams come true. "No is not an option" she says, "people naturally err to no and always express doubt – we must always believe and find ways to make what we want, happen"
At the young age of 14, Tanya naturally realized the power of her own mind – when, against all odds, she was picked out of an audience of 20,000 people, to sing with Barry Manilow.  While this seemed like luck, it was by no means anything to do with luck.  The previous night, she was in the audience and the girl in front of her was chosen out of a packed crowd. Being the singer she is, she was terribly disappointed that she wasn't the lucky one chosen.  As it turned out, her father did manage to secure tickets for the concert the following night but when they arrived to the concert she found her seats were at the back of the auditorium and there was no way she could be seen.  BUT because of Tanya's belief and conviction, she literally found a way to make it happen and Tanya knew that this was the night that SHE WOULD be picked to sing with Barry Manilow.  That was the beginning of Tanya's journey in creating anything if you want it that much.
27 years later, in August 2008, Tanya achieved another big dream of creating and contributing to peace in the Middle East.  This became a reality when she brought 13 Palestinian and 13 Israeli's together as teammates to play a game she knew and loved, AFL  (Australian Rules Football). Once again, against all odds, she bridged the political, historic, geographic and cultural divide among this inspirational group of men, making the impossible, possible and created a miracle in only 9 short months.
So compelling was this story, she is also the subject of Screen Australia's Documentary – Tackling Peace, which featured in cinemas and TV. It's the inspirational story of the Peace Team brought together by one unstoppable woman. The Documentary goes behind the scenes as young men from different sides of a bloody political war, set aside a lifetime of prejudice and hostility to compete as one united team in the International Cup. Few of the aspirant players had ever heard of the game and none imagined befriending teammates from across the political divide.  The film was also nominated for BEST DOCUMENTARY for the 2009 Australian Film Industry Awards and is also currently being considered for broadcast in the US.  The film is also now being used as an educational tool in schools throughout Australia.
Amongst her regular speaking engagements to Corporate, Community Groups, Organisations and Schools, in December 2009, Tanya was invited as a featured speaker at the Global Parliaments of the World Interfaith Conference in Melbourne. She was also recently named Football Woman of the Year, and awarded a special honour by the Australian Football League, for her outstanding contribution to the game through the Peace Team project, having made Australian sporting history.
Her presentations are inspiring and interactive and no two presentation are the same, as audience participation often guides her talks. Tanya presents with warmth and passion and participants find her authentic and compelling.  She is down to earth, real and speaks from her heart.
Tanya has lived by creating and fulfilling her dreams, balancing a very active family of three energetic children, while advancing her career, family obligations and making the impossible, possible. She is a true source of inspiration to many who hear her story.
Further Information available upon request.
Google search word links for interviews, archives, media, information & PR:
Tanya Oziel AFL
Tanya Oziel Australia
Tanya Oziel Peace Team
Tackling Peace – Screen Australia
Peres Center for Peace