Daniel Belik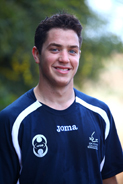 Age: 18
Residence: Ra'anana
Occupation: before army service
Family: My family is originally from Poland, but after the holocaust my grandmother (who was one of the few survivors from my extended family) came to Australia. My parents grew up in Zionist youth movements in Australia and so it was just natural for them to make Alia to Israel where I was born. I have an older brother (who was in the AFL Peace Team last time) and a younger sister.
Sport: As a child with an Australian family I grew up on AFL – played where I could and am a fan of a team in Australia. Apart from AFL, I also cycle, run and surf.
Politics & the "other side": I was involved in a few coexistence projects from a young age: around age 13 I was part of a "budo for peace" group (a Jewish-Arab martial arts group). We traveled together to Greece and met others in conflict. Later, during my senior year in high school I participated in a Jewish-Arab project in which we received an amount of money and had to choose together to which charity to give the money to. We went on many tours and got to know many organizations and associations through this project. So, coming into the AFL Peace Team, I feel like I have some experience in getting to know "the other side" and I hope to try help others open-up as well. I am also learning Arabic and hope to be able to understand and speak a little by the time we go to Australia.
I believe this experience will make me a better soldier and I hope to influence the soldiers around me for the better.