Danny Brill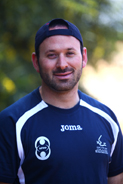 * Past Player
** Assistant Coach
Age: 31
Residence: Jerusalem
Occupation: Entrepreneur
Family: I lived in Caulfield until I was 22, finishing primary and secondary school at Yavneh College, and in 2002 I moved to live in Israel, or made Aliyah as it is known in Jewish circles. Being the youngest brother of four siblings meant that I was often used as a punching bag, which allowed me to toughen up a little and try and give as much as I got. The next in line in front of me is my sister Tammy who I am extremely close with, as well as her family, but with one of my oldest brother living in Sydney, and the rest of my family living in Israel, the distance does definitely make the heart grow fonder.
Sport: Born in Melbourne, Australia to Israeli parents, fitting in was a really big deal for me. There's nothing worse than looking different and smelling different than the rest of your mates, so sport became my avenue to not just fitting in, but venting that frustration and anxiety out and really just a way to unwind. Starting an intra- Jewish youth movement football competition was an important project as I saw how important sport is to being able to share and experience differences within a culture open to so many people. I have no professional background in sport. I played a few games for the Jewish club Ajax in Under 16's, but other than that, the amateur Sunday games known as "Shleppers' was the league I relied on the most for my skills.
Politics & the "other side": When the opportunity to be involved in the Peace Team project came up, I grabbed it with both hands and really put myself outside of my comfort zone to being open to seeing a different side of this crazy conflict. As well as that, it was, and is very important for me to be heard as well.
I am a passionate Collingwood supporter and have a firm belief that this project already has affected, and will continue to affect so many people.