Dari Diab Tamimi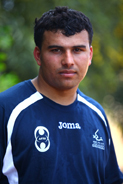 * Past player
Age: 23
Residence: Jerusalem
Occupation: Truck driver working for a small family business
Family & Childhood: Married with an 8 month old baby girl.
Sport: I started playing football at the age of 14. I participated in the AFL Peace Team three year ago and I was very interested and surprised at the attention we received – that everybody came to watch us – and how greatly they wanted to see the peaceful side of us playing together in one team.
I am really happy to see that there are some people who can get out of the conflict and play sports, pure sports, together. This is what I love about this project.