Doron Zauer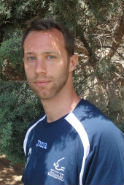 Age: 30
Residence: Tel-Aviv
Occupation: Lawyer
Family: I was born and raised in Australia even though now all my close family is in Israel (my extended family still lives in Australia). After finishing high school I went to do a year of training in an Aliyah program in a Kibutz in Israel and then decided to stay. I was the last of four brothers and sisters to make Aliyah and come to live in Israel. I now am married with a 10 month old baby boy. After I made Aliyah I was drafted to the army and upon finishing my service began studying law and now practice law.
Sport: I played AFL in school as a child and loved it. When coming to Israel I tried for many years to organize AFL games but it was pretty hard. So naturally I already wanted to join the 2008 Peace Team but had just moved with my wife to London for work reasons for a couple of year. So my time has come now.
Politics & The "other side": As a child abroad, you learn about war, but it's hard to imagine it on a daily basis as life is in Israel. This is my first acquaintance with Palestinians. I find the meetings fascinating and believe they are incredibly important. However, I do not have high expectations – this is a very short time to get to know one another and we have so many obstacles in just being a new sport group, even without bringing in the conflict, so there's a lot to work on – language barrier, learning a new sport, national identity etc. but I believe things with evolve naturally with time.