Kamal Abu Althom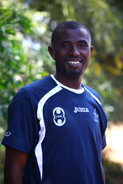 Age: 27
Residence: Samoa – Hebron
Occupation: Physical education teacher
Sport: I have played football since I was 12 in various Palestinian groups, in Jordan, and I was selected three times to play with the national Palestinian team. To this day I play football and I coach as well.
I was part of the AFL Peace Team three years ago. It was a new and interesting experience, a new sport, a special team of Israeli and Palestinian players.
I was surprised by the great crowd that watched, encouraged and supported us there. I formed really strong relationships with the Israeli players; we have become very good friends and to this day we keep in touch.
Politics & the "other side": There is nothing in particular that I personally experienced or went through, other than the usual problems that all Palestinians experience with checkpoints, closures and the occupation. Many people that I know (the community, friends, neighbors) are opposed to my participation in activities with the Israeli side in spite of what we are going through in our everyday life (difficult living conditions), they do not believe that such activity can improve the situation or lead to peace. I try as much as possible to explain and deal with it, and portray the positive things as much as possible.