Kfir Kol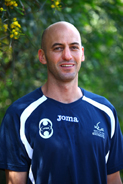 * Past Player
Age: 33
Residence: Beit-Zayit
Occupation: Hydrotherapy and sport coach
Family & Childhood: I am a father of two children (one newborn). My parents are both from Iraq so they speak fluent Arabic and I have learnt Arabic from them and on my own over the years. I was born and raised in Jerusalem.
Sport: I was always an athlete. I played in Israel's water-polo national team, and participated triathlons and marathons. After years of working in Ecology I decided to turn to sports and now am a professional sport trainer for children and work in hydrotherapy.
Politics and the "other side": I studied Geography and Ecology at Tel Aviv University but then decided to change my path and study at the Arava Center for Environmental Studies. The Center has many avenues for  Jewish-Arab cooperation and projects. This was my first personal acquaintance with Arabs and that is also when I began developing a more in-depth understanding of the conflict and the "other side". They became my friends.
I came to be part of the first Peace Team after three years in Arava's projects with Alaa Barhoum from Ein Rafa, who also work with the Peres Center for Peace. The Peace Team meant a lot to me and I kept in touch with some of the players.
My expectation from the 2011 Peace Team are: 1) Sport aspect – I already see an improvement in the level of play and I hope we keep getting better. There's a much more serious athletic atmosphere and I love it! 2) Connecting to "the other side" – I wish we had more joint practices but I believe we'll connect during the program.