Lidor Ganon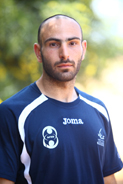 Age: 21
Residence: Yeruham
Occupation: Soldier (serves as a sports trainer) finishing my service before we go to Australia.
Family: Both my parents came to Israel at an early age from Morocco. I am their only child.
Sport: I have been an athlete from a young age – participated in the Israeli national athletics team running the 200 meters and jumping. In the army I am a fitness trainer in elite combat unit. I think sport is my destiny and I plan on pursuing it and studying it in the Wingate Institute after finishing my service.
Politics & The "other side": I am happy and excited to meet the Palestinians. I believe in tolerance and accepting the other and I really look forward to getting to know all the guys.