Robert "Dipper" DiPierdomenico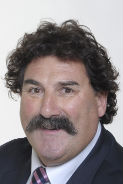 Beginning his career with the Hawthorn Football Club in 1975, DiPierdomenico, or the "Big Dipper" as he is affectionately known, kick-started his career in 1978, culminating in a best-on-ground performance in the 1978 VFL Grand Final. He went on to play 240 games and kick 130 goals with the Hawks, retiring in 1991, including 5 day and 5 night premierships with one of the most successful eras of domination a club has ever seen.
He was known for his toughness (which led to many trips to the Tribunal), and the mustachioed Dipper was one of the much-loved characters in the VFL. DiPierdomenico won a Brownlow Medal in 1986, tying with Greg Williams.
In the 1989 Grand Final against Geelong Football Club, a collision with Gary Ablett broke several of Dipper's ribs and punctured his lung. Dipper played unaware before finally collapsing at the end of the game. He was sent to hospital where his injury was diagnosed.
Media career
Dipper has long been known for big persona, including his always smiling and jovial personality.
After he retired, he became a popular media personality, as a boundary rider with the Seven Network. After Seven lost the rights to broadcast AFL in 2001, Dipper continued his tradition as a boundary-rider on radio station 3AW.
In the 1990s, Dipper made an appearance, along with Dermott Brereton and Adrian Barich, in a charity rugby league match and scored a try, and in typical comedian style dived over the line like superman to celebrate.
He is currently an ambassador for the AFL's Auskick junior development program and is popular with Australian children due to his presence as a "cartoon character".
He coached the Peres Team for Peace (Israel-Palestinian Territories) in the 2008 Australian Football International Cup.