Saeed Mohamed Barhom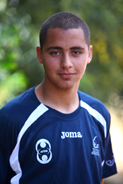 * past player
Age: 19
Residence: Ein Rafa
Occupation: I work in Silicone factory and am a football coach in the Peres Center for Peace project.
Sport: I started playing football when I was eight years old and enrolled in the football team of the Peres Center for Peace and received lots of training for Coaching and now I work with them as a coach for young kids.
Politics & The "other side": My family is originally from Tzoba which is now called Kibuts Tzoba. They had to immigrate with the other families during the war of 1948 to another location and created the village now called Ein Rafa.