Saji Shmanesh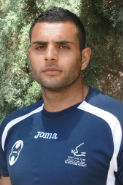 Age: 24
Residence: Ramallah
Occupation: Business Administration graduate working in a small family business.
Family & Childhood: I have one married sister and one married brother who lives in the United States, I live with my mom and dad.
Sport: Due to my body's features I was attracted to basketball, I started playing at the age of seven, I registered at the National Union of Basketball at the age of 10. I took part in different local and International Basketball tournaments especially in Egypt. At a later stage I was attracted to swimming and body building, and at the age of 21 I became certified as a lifeguard from the Palestinian Union for Swimming. I also practiced Karate for five years.
Politics & the "other side": Our house was demolished in the Qatana village in the year 2003, therefore we moved to Ramallah to live with my uncle. I think that we are deprived of our basic rights, (our children are born MEN) they have to act like men, the stage of childhood is deleted in their lives.
All of my contact with the other side is mainly through business, so my involvement in this project makes it my first human experience with the other side.
Other: I wish that peace will spread in the country.