Solaiman Hourani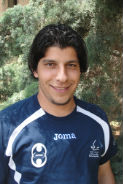 Age: 23
Residence: Beit Sahour
Occupation: University Student
Family & Childhood: I have 3 sisters and one brother. I am the eldest boy amongst them. My grand father had to immigrate with his family from Almasmeyeh near Ramalla to Biet Sahour during the war of 1948 and then started a new life in Biet sahour. They had hoped to go back to there original home in Almasmeyeh, but this hope was never accomplished. While my family ran away from war and military actions, they were shocked to see a military camp in Biet Sahour next to where they resided. The situation was harsh. Therefore my father, taking my mother along with my uncle, went to Suadi Arabia in search of better opportunities and thus I was born in Suadi Arabia. 12 years later my family came back to Palestine and my father started working in Israel as a worker. Having to go to work inside Israelmade our lives very tense, we were (and still are) always worried about our father.
Sports: I started playing football at the age of 12 at school, then started to organize local tournaments for my neighborhoods. During this time I met a sports representative who asked me to join the Football youth team in Biet Sahour so I did. I played with them for 3 years then joined the first team for the cultural club in Beit Sahour. I played for 3 years with them and then suspended my sports activities for my Tawjihe Exam. Later, I became a certified swimmer and played Ping-Pong. I was also part of the horse riding trainers in Jericho.
Politics and the "Other side": When I was 13 years old, I was part of a very crucial period in our history: one of our neighbors was wanted for security reasons by the IDF, and so everyday our neighborhood would be invaded by the Israeli security forces, spreading fear all around in order to arrest this person. This affected me very deeply in my heart and I always felt insecure and the unfairness of life.
I would also like to talk about my personal experience in crossing the checkpoints every day during my study at University, as I was stopped many times for hours even though I am a very peaceful person and have a clean record. Once, the soldiers at the checkpoint even threatened to put me in Jail.
Finally, since I was young I always asked my father to take me to Jerusalem to go to the mosque or to see the old city, but he always told me you can't do it without having a permit. I didn't realize when I decided to get involved in this AFL project that I will get a permit. I didn't know much about the project except that its involving sports & Peace. Therefore I was completely surprised to find out that during this project I will get a permit and finally be able to see Israel, the mosque, the Old city of Jerusalem and lots of interesting places. I will feel very sad when this is all over!
I don't want the same life for my children. I want them to live a better peaceful life in which they will be able to enjoy all their rights.