Yonatan Belik
Age: 21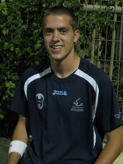 Residnece: Ra'anana
Occupation: I have 4 months left to serve in the IDF, my job is a commander of volunteers called "Sar-el", and currently I am a PR for the Logistics unit, motivating and informing high-school seniors to serve in the army, and in the logistics unit.
Family and chilhood: Son of Harvey and Loretta (who made "Aliyah" to Israel in 1988 from Melbourne), older brother of Daniel (also on the team) and Ayelet
Sport: I have been active all my life, from basketball through elementary to squash, cricket(for the israeli national team) & European handball. Sport is a way of life, a way to release your energy, meet people and connect to people on a neutral level i played for the peace team in 2008, and by being part of that experience my life changed. being on the team again is another dream come true, and i hope and believe that this will grow and we shall pass on the message to the world and to the people in the middle east. Footy is without a doubt the BEST game in the world!
Politics and the "other side": Prior to the peace team, I was on the right side of the political map. not understanding and not being involved led me to just not care, and not want to solve anything, because my personal life was great.
After the ic08 my life changed, I learnt to listen, ask, learn, and connect to the "other side" .as a result of the peace team, when drafted to the IDF I understood more about the conflict, and due to the fact that I had friends on the other side, I would challenge any stereotype comment by soldiers who didn't know what they were talking about.
I am so grateful for being part of the peace team, and this time I feel that I understand so much more. I want to hear and learn more from the other side in order to pass on the message and do what I can as a single citizen in a democratic country.